With the improvement of people's requirements for the meaning of handmade, more and more weaving techniques have come into the public's eyes.
This is because the weaving skills can better highlight the texture of the jewelry, and the weaving skills can enhance the preciousness of the jewelry. In collocation, it will not be particularly abrupt, easy to match with clothing, and can also play a good role as a foil, and is highly unified with clothing.

For the weaving process, many people give up trying to learn and make this craft because of the complicated braiding, but our craft kit can solve this problem. The kit contains three auxiliary tools: weaving wooden frame, weaving disc, Knitting mats, these tools make knitting even easier.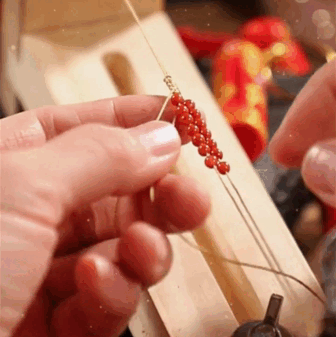 Here are the various braiding techniques and how-to tutorials at the beginning and end.

Woven wooden frame with two clips included. This tool enables better retention of the braided rope during the braiding process, working on straight lines. Below is a video tutorial on using the tool.





The weaving plate comes with a 1-meter-long hose, which is used to weave round bracelets and other accessories. Novices can quickly learn it. The following video is a demonstration video, and the tutorial is in the form of an electronic manual. Send tutorials by email.
Weaving pads are used to make earrings and relatively complex woven jewelry, which makes the seemingly complicated operation easier, the following are jewelry tutorials made with woven pads, which will be updated irregularly later
The gem hemming technique can refer to the operation of the weaving frame or the weaving mat. The following are the different operation tutorials of the two tools
Braided frame Gem Bound
Woven Cushion Gem Bound
After weaving the hemming rope, the next step is the operation of embedding gems, the unified operation method of the two tools
Klein Blue Gradient Butterfly Ring
Bow Gold Bead Bracelet