The Bead Embroidery Template Kit contains three main embroidery tools: tambour hook, embroidery needle, and beading needle.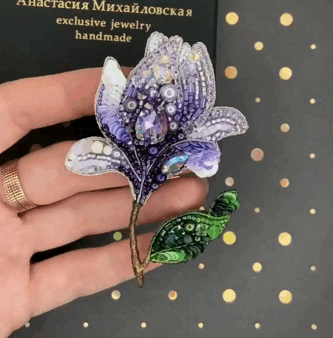 Each e-book contains multiple template projects with illustrated tutorials, a total of 2 e-books to keep your creative projects uninterrupted, and comes with 200 project tutorial videos with clear demonstrations.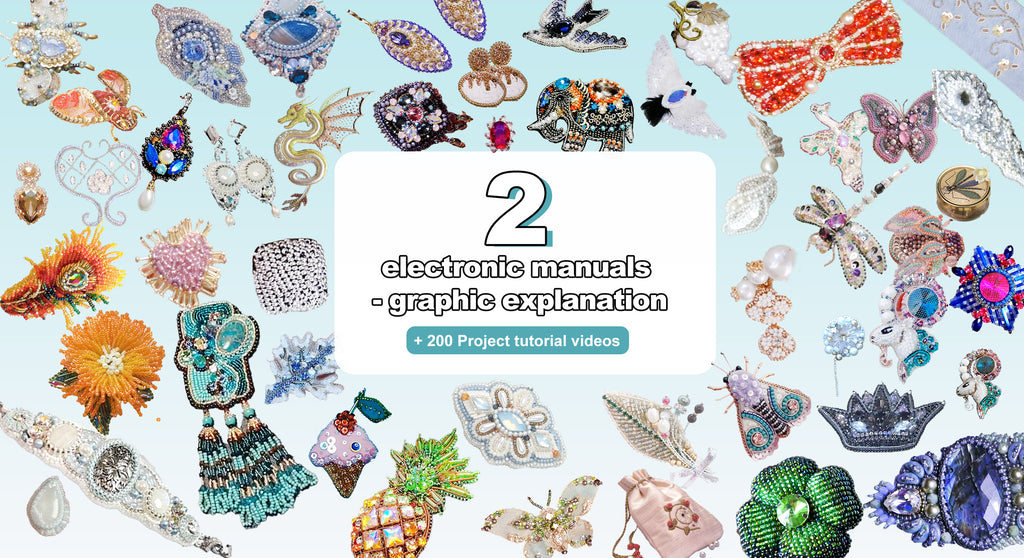 Feature:
The toolkit contains three main tools for beading embroidery: Tambour hook, Beaded needle, and Embroidery needle. The handle of the tambour hook is made of brass and solid wood, smooth surface and grip designed to fit the hand, the needle is made of steel.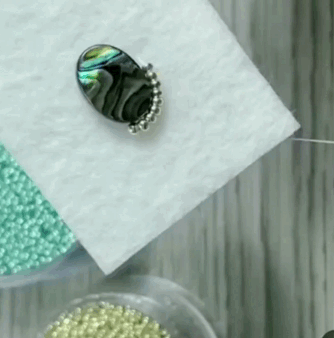 Each pack of 50 brightly coloured embroidery threads for cross stitch DIY art, and needlework crafts projects. For embroidery, it is perfect for embroidery on cotton or ribbon.
7-color ribbon, used for color filling and three-dimensional embroidery in the embroidery process, with seven colours to meet the color needs of embroidery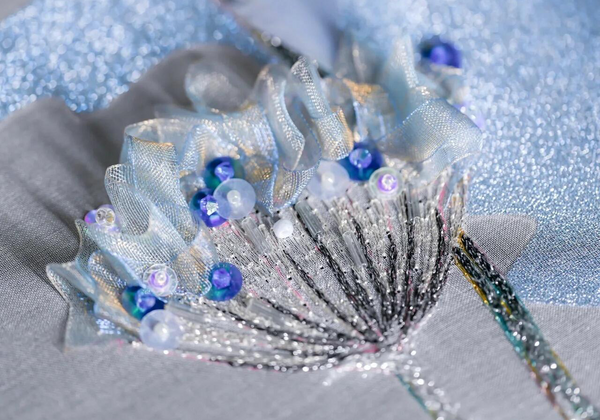 Transparent mesh material, the embroidery process does not yarn, making the work more three-dimensional and outstanding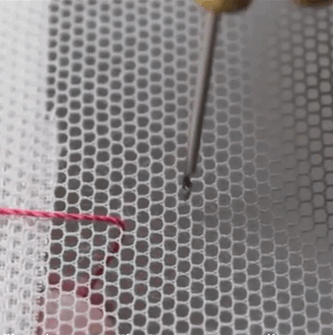 Embroidery hoops are made of natural bamboo, splinter-free, colourfast, lightweight, durable and attractive.

Spiral Copper Wire, used to hold the edges and define the outline of the project, perfect for clothing accessories, embroidery, appliques, art, crafts and decorations, available in gold and silver for your creation

Equipped with non-woven fabrics&sheets of pu leather, 10*10cm size, the thickness of the non-woven fabric makes the embroidery work more three-dimensional, and the high-quality pu leather is used for back stitching, making the embroidery more skin.
You can easily complete DIY, Make it a Christmas gift for your friends and family.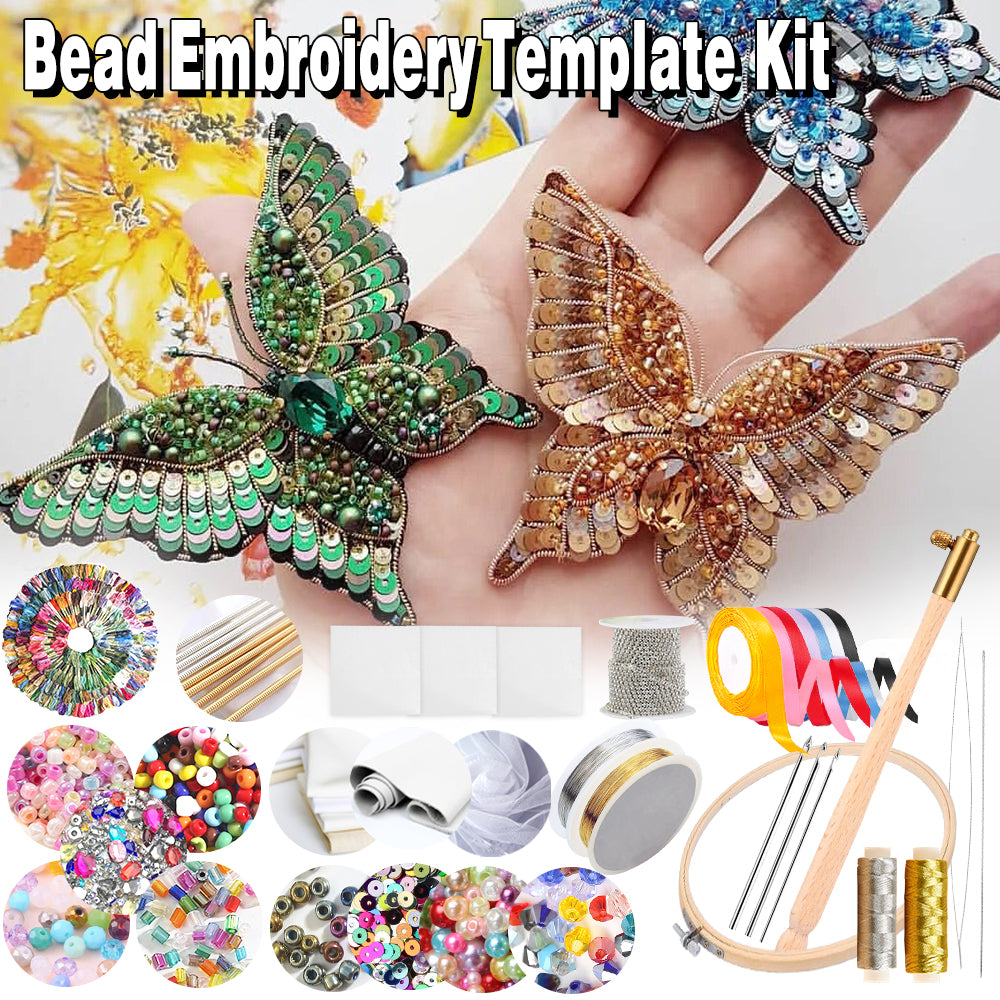 Package Include:
Tool kit:
2 ebook tutorial manuals

200 project tutorial videos

Tambour hook comes with 3 interchangeable needles

Beaded needle

Embroidery needle

Transparent mesh material special fabric

Embroidery cloth

3 non-woven fabrics

3 sheets of pu leather

Embroidery hoop(diameter:20cm/8.26in)

50 vibrant colours embroidery thread

Golden embroidery thread

Silver embroidery thread

Golden Spiral Copper Wire

Silver Spiral Copper Wire

Golden Copper Wire

Silver Copper Wire

7 color ribbon
Drill chain
Tambour hook embroidery transparent line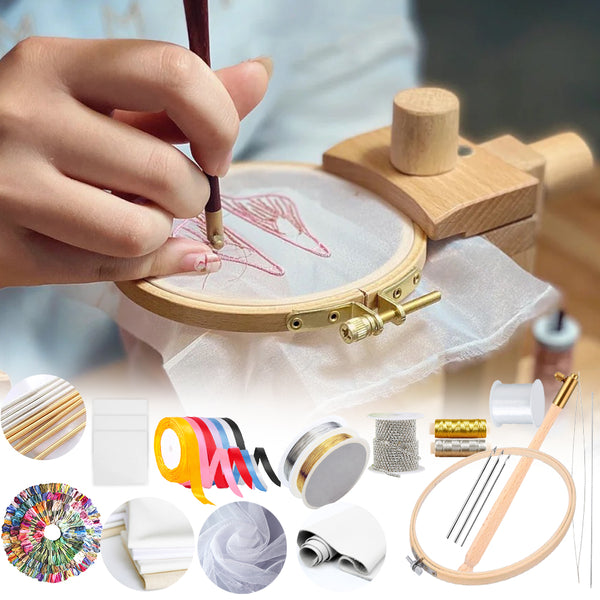 Bead Material Only:
Multi-Shaped Hand Sewing Drills
Cream beads 7 colors: pure white / dark pink / violet / lake blue / hole green / light yellow / orange red

Solid color beads 5 colors: dark red/black/blue/dark green/yellow

Metal beads 4 colors: red bronze / black / electroplating gold / electroplating silver

Diamond beads 6 colors: transparent white/black/gold plating/silver plating/bronze plating/blue plating

Wheel beads 5 colours: transparent, black, white, silver series/cream yellow, transparent yellow, coffee colour, gold series/milk cyan, milk green, translucent cyan, transparent green, dark green series/transparent blue, milk blue, dark blue, symphony blue, sapphire series / light white, transparent orange, milk orange, orange-red series

Short tube beads 7 colors: yellow/purple/white/red/sapphire blue/dark green/orange red

Long tube beads 7 colors: silver white/golden yellow/black/red/sapphire blue/dark green/violet

Embroidered sequins 8 colors: champagne/cyan/green/sapphire blue/light purple/red/color gold/color silver

Multi-Sized Color Pearls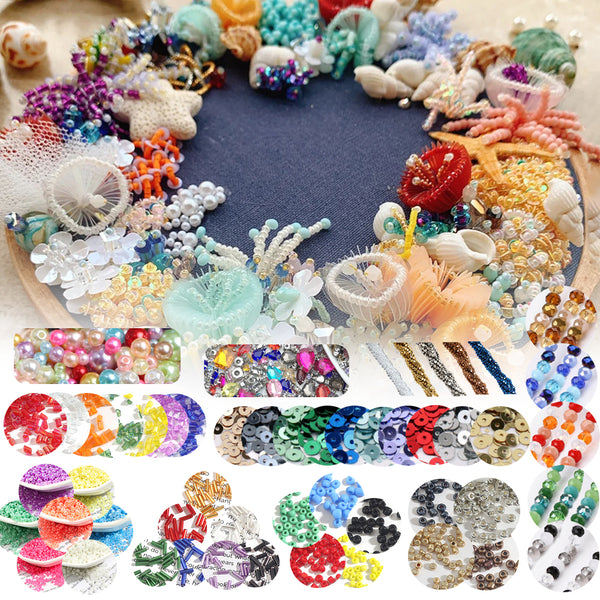 Specifications:
Tambour hook:

the wood handle is approx: 4.5 inches/ 113 mm,the diameters of the needle are 0.7 mm, 0.9 mm and 1 mm


Beaded needle:4.5mm



Embroidery needle:0.45*32mm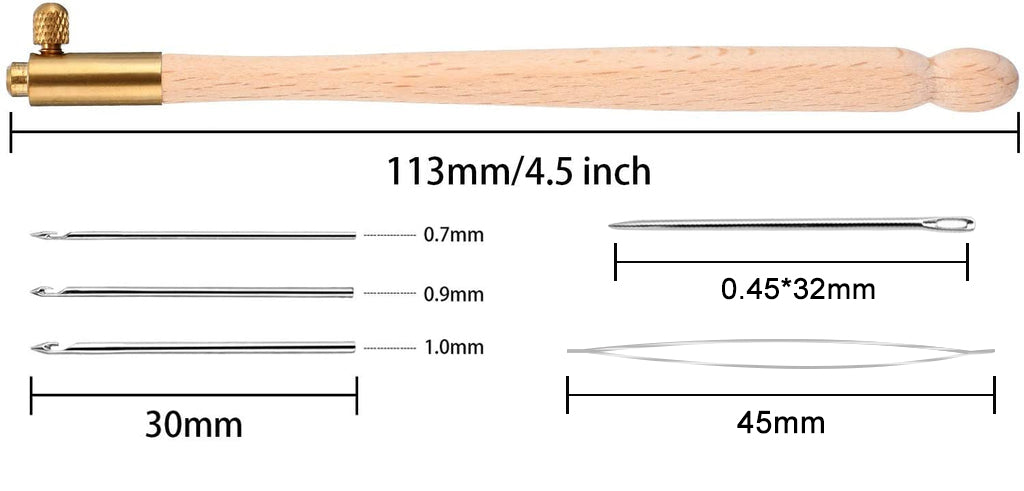 Please click here "

Beading & Jewelry Making

"to view the materials required for various French embroidery.

Please click

 "

French Embroidery Tambour Hook Tutorial

" to learn how to make an embroidery 
Since the tutorial is in e-book and video documentation mode, please fill in the e-mail address when purchasing, so that the e-tutorial manual will be sent to you after receiving the goods
For reference drawings, you can click this link to view and obtain them:"

Tambour Hook Drawings

" Click on the image to download and save. You can print it and draw it on gauze. I wish you a happy creation!