Wire wrapped jewellery is one of the oldest jewellery making techniques in the world.

If you're new to making jewelry, wire wrapping is a fun and relatively easy place to start. It's also a great way to express your creativity and individuality, as no two pieces are ever the same.
Wire wrapped jewelry is formed by wrapping flexible wire around a gemstone (or even around itself) in patterns and twists. When a stone is used, the wire creates a casing so that it doesn't fall out, without the need to glue or drill holes in it. You can make all kinds of jewelry with this method, though pendants are especially common.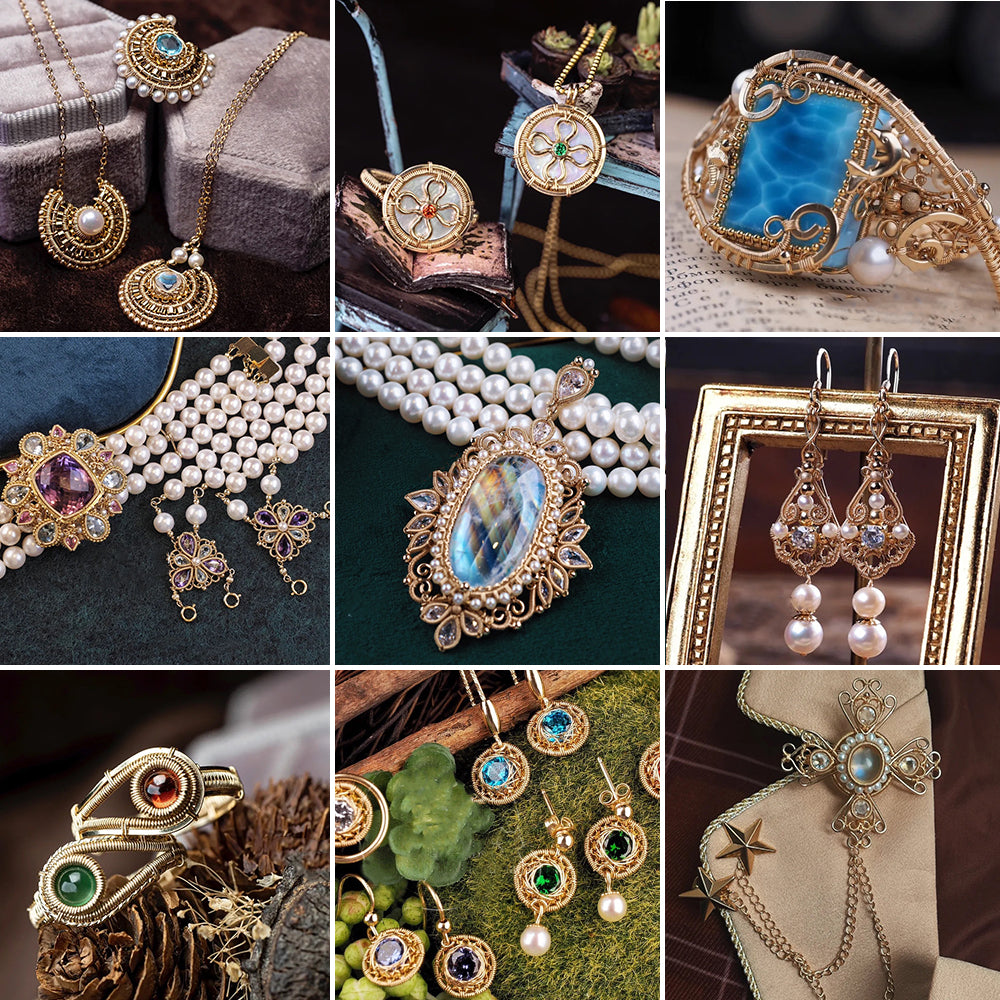 Wire advanced customization templates, each e-book contains several template project illustrated tutorials, a total of 22 e-books, make your creative projects uninterrupted, and comes with a tutorial blog with a clear demonstration
Feature:
Set includes 22

 illustrated eBooks

 、81 winding video tutorial

 

and

tutorial video blogs

, various wire project templates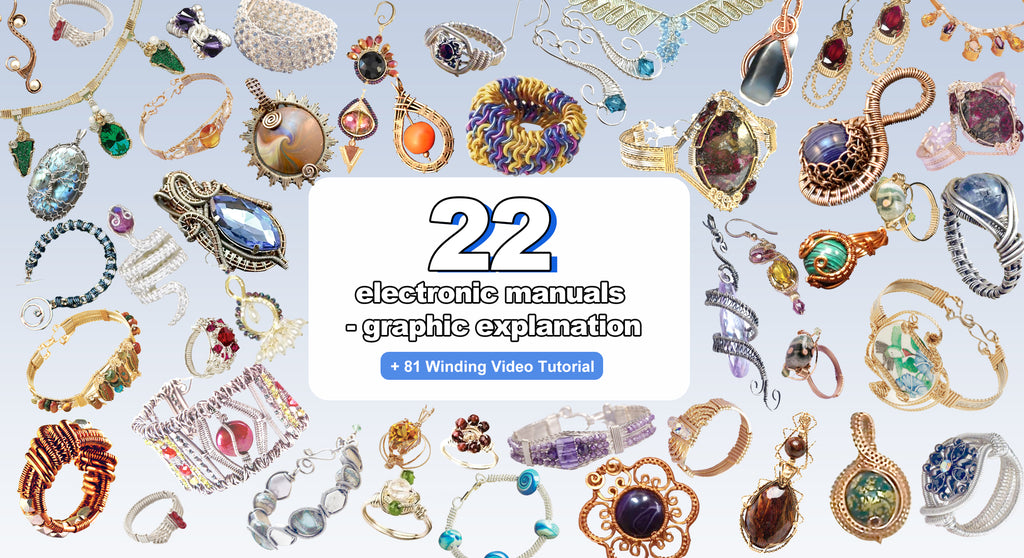 The metal wire is

copper-plated 14k gold

, the semi-hard texture is lighter and easier to form, and the 14k gold-plated process is more stable in color retention.

High-quality natural gemstone sets

meet the creative needs of different styles.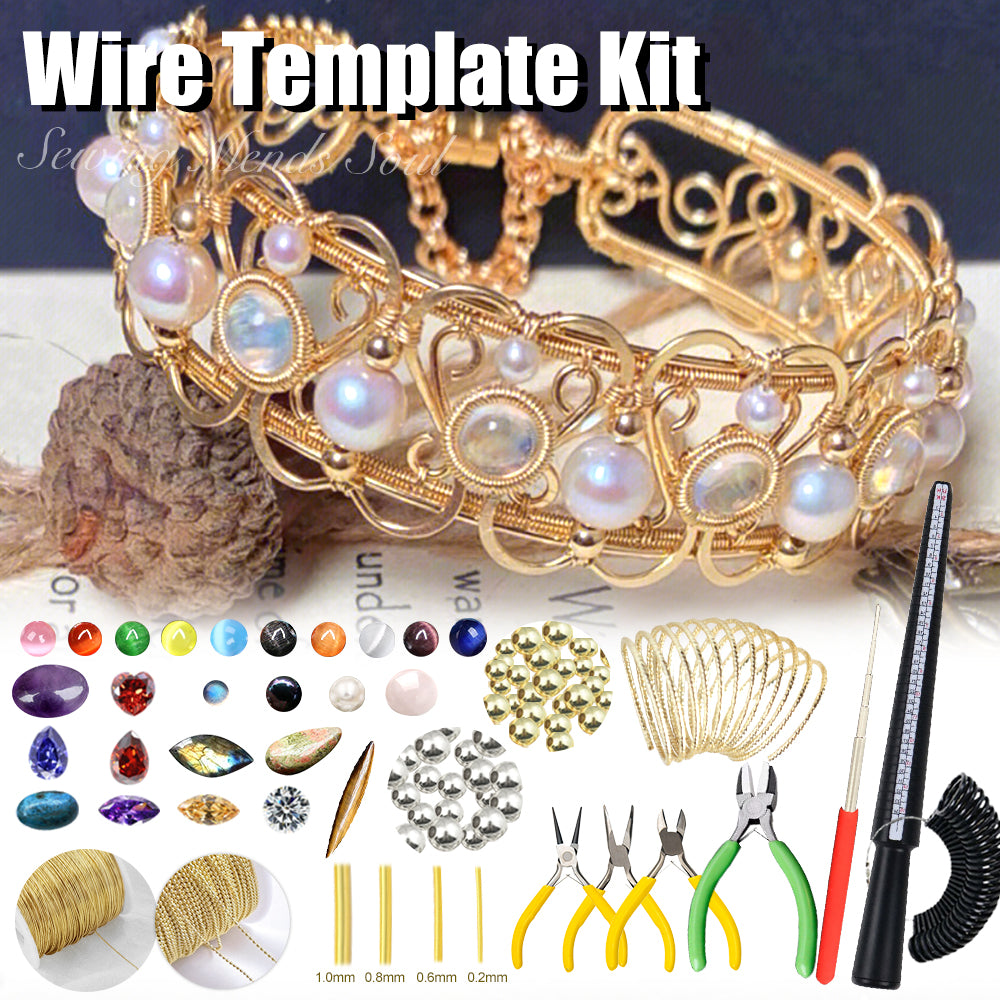 14k metal round wire

has four most commonly used sizes: 0.2mm, 0.6mm, 0.8mm and 1mm, and

bead chain

 has 1.2mm, which are suitable for the use of frames. The

metal batch wire

 is matched with a size of 0.6mm, and the pattern on the metal wire will have a flickering effect in the sun, making the product more eye-catching. The line combination meets the needs of the main body of the winding, making the work more three-dimensional and outstanding.

Three handmade mini pliers, circular

, 

cutting

and

bending respectively

, it is easier to grasp the details of the production process


Modelling nylon pliers

, straighten the bent metal wire in the creation, does not damage the surface of the metal wire while the concave shape, plays a protective role.
Equipped with a

ring rod

to solve the mastery of details such as size and radian


Small five-segment winding rod

, there are five different sizes in this tool to meet your diverse creation in the project


Self-contained ring size measurement ring

, various sizes, auxiliary winding, to meet various size requirements
Package Include:
Tool kit:
22 illustrated tutorial eBooks

81 winding video tutorial

Tutorial video blogs

0.2mm14k metal round wire

0.6mm14k metal round wire

0.8mm14k metal round wire

1mm14k metal round wire

1.2mm bead chain
0.6mm metal batch wire

Circular mini pliers

Cutting mini pliers

Bending mini pliers

Small five-segment winding rod

Ring size measuring stick

Modeling nylon pliers
Finger size measuring ring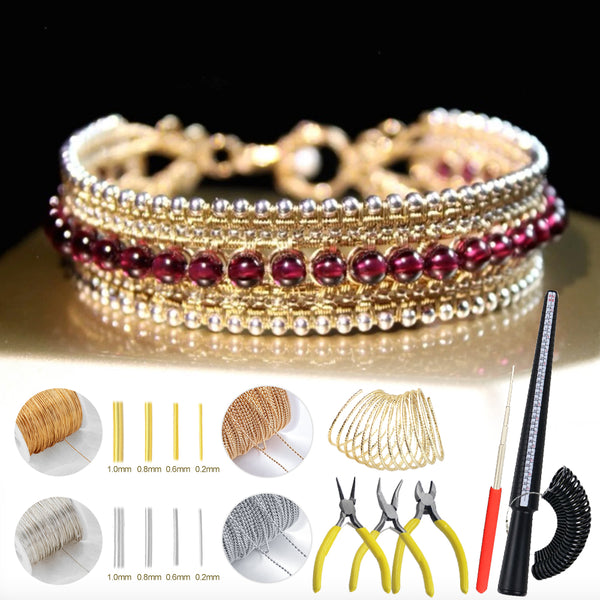 Natural Stone Kit:
1*oval jade agate

1*round natural pink crystal

1*oval natural amethyst

1* long marquise yellow tiger's eye

1*teardrop turquoise

1*red heart zircon

1*

Red

 teardrop zircon



1*champagne marquise zircon

1*fuchsia marquise zircon

1*blue

teardrop zircon



1*white round zircon

2*white shell beads

14k gold plated beads

925 silver beads

90 pcs color opal 4mm loose beads
2*8mm natural black shell beads

1*round natural moonstone

1*short marquise labradorite
Specifications:
Four sizes of 14k gold plated copper wire:0.2mm, 0.6mm, 0.8mm

, 

1mm

Bead chain:1.2mm
Metal batch wire:

0.6mm

Oval Persian Gulf Agate

:15*20mm



Round natural pink crystal

:16mm

Oval natural amethyst

:13*18mm



Long marquise-shaped yellow tiger eye stone

:7*32mm



D

rop-unakite

:15*30mm

Natural white shell beads:8mm 
Natural black shell beads:8mm 

14k gold plated Beads:2

mm(80pcs), 

3

mm(40pcs), 

4

mm(48pcs), 

5

mm(20pcs)



925 silver beads:

2

mm(120pcs), 

2.5

mm(82pcs), 

3

mm(40pcs), 

4

mm(20pcs)

Color opal loose beads:4mm 

(

90pcs

)

Red heart zircon

: 10*10mm




Red

teardrop zircon

: 6*8mm



Champagne marquise zircon

: 5*10mm



Fuchsia marquise zircon

: 5*10mm



Blue teardrop zircon

: 6*8mm



White round zircon

: 10*10mm

Natural moonstone

:6mm



Short marquise labradorite

:2.5cm
Notice:
Because it is a natural gemstone, the internal pattern of each natural stone is different, and the luster and pattern are different.
Excerpts from the e-book tutorial content - refer to the following: Explanation with pictures and text